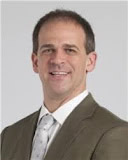 Assistant Professor of Medicine, Cleveland Clinic Lerner College of Medicine of Case Western Reserve University
Staff Physician, Cleveland Clinic
Section of Headache and Facial Pain Medicine

Dr. Harold Goforth is a member of the Center for Neurological Restoration at the Cleveland Clinic in Cleveland, OH. He has been a member of the Cleveland Clinic Medical Staff since August 2012. He worked previously in the Section of Palliative Medicine in the Department of Hematology/Oncology.