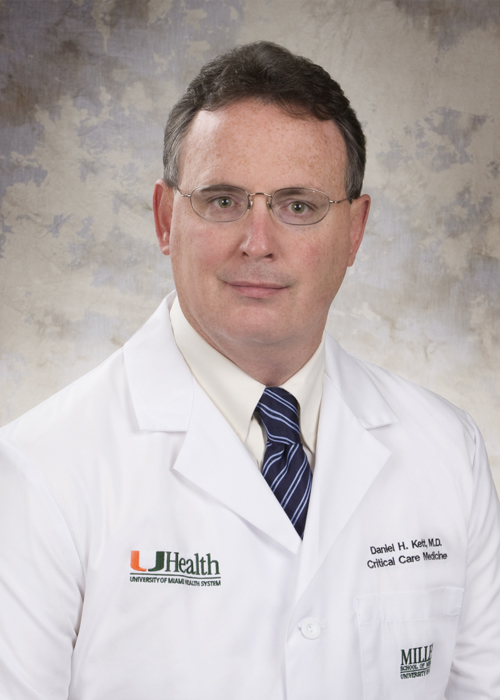 Daniel H. Kett, MD, is the director of the Medical Intensive Care Unit at Jackson Memorial Hospital and a professor of Clinical Medicine at the Miller School of Medicine at the University of Miami in Miami, Florida. He earned his undergraduate degree at the University of Florida and his medical degree at the University of Miami School of Medicine. Dr. Kett completed his internship and residency in Internal Medicine followed by a fellowship in Critical Care Medicine at Jackson Memorial Hospital. He is the recipient of the Excellence in Teaching Award by the University of Miami Miller School of Medicine/Jackson Memorial Hospital Internal Medicine Residency Program.
Dr. Kett has strong clinical and research interests in ICU related infection control practices and in the treatment of severe ICU related infections, including healthcare associated pneumonia invasive candidiasis.
Dr. Kett is an investigator for the Bacteriology and Mycoses Study Group, a large multidisciplinary group of researchers with a primary focus on studying serious infections, and is active in several projects related to fungal infections in critically ill patients. Results of his research have been published in the New England Journal of Medicine, JAMA, Annals of Internal Medicine, Lancet Infectious Diseases, Critical Care Medicine, Chest, and the Journal of Intensive Care Medicine. Additionally, Dr. Kett has presented at numerous scientific meetings and has been an invited lecturer at national and international conferences.
Participating On:
Previously Participated On: