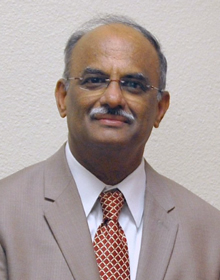 Doctor Kris Vijay received his medical degree from the Kasturba Medical College, University of Mysore, India, in 1979, and postgraduate training in medicine in Bombay, India, in Oxford, UK and in Rochester, New York. He served a fellowship in nephrology at KEM Hospital in Bombay, endocrinology and diabetes at University of Southampton, UK and a fellowship in cardiology at Good Samaritan Medical Center, University of Arizona, in Phoenix. He also holds a Master of Science degree in Clinical Research Design and Statistical Analysis from the University of Michigan

Dr. Vijay is the Medical Director of the Institute of Congestive Heart Failure at Abrazo Arizona Heart Institute and Hospital in Phoenix. He is a Non-invasive Cardiologist, a clinical lipidologist, an ardent researcher and a Heart Failure specialist .He has been in clinical practice in Arizona for more than 27 years.

Dr. Vijay is a past Governor of the American College of Cardiology, Arizona Chapter, past President of the National Lipid Association, South West chapter, a founding member and past President of the Cardio Renal Society of America and current President of the TWINEPIDEMIC, Inc., a nonprofit organization addressing Diabetes and Heart disease among Ethnic Communities all over the world. He is a Fellow of the American College of Cardiology, the American College of Physicians, National Lipid association and Heart Failure Society of America. He is a member of the clinical cardiology council as well as council for Atherosclerosis, Thrombosis and Vascular Biology at American Heart Association, a member of Prevention and Cardio-metabolic committee at American College of Cardiology and an Executive Board member of the National Lipid Association.

Dr. Vijay is a founding member of the Arizona Managed Care Quality Enhancement Program (AMCQEP), 1992, and received the Governor's award from Health Services Advisory Group (HSAG), October 2002, an innovation award through the Center for Health Innovation and Clinical Trial (CHI&CT) at Arizona State University from the President of Arizona State University in 2010 and the Jerome Markowitz award for a distinguished career from South Asian Society of Atherosclerosis and Thrombosis in 2013. He was one of the three nominees of Healthcare Heroes award for Phoenix Business Journal towards Life time achievement in 2017.

Dr. Vijay has participated in more than 180 clinical trials and his research is focused on such disorders as congestive heart failure, hypercholesterolemia, hypertension, coronary artery disease, plaque regression, Atrial Fibrillation, peripheral vascular disease and diabetes/metabolic syndrome. He has published more than 100 articles in peer reviewed journals. Dr. Vijay serves as a Clinical Professor of Medicine at University of Arizona, Phoenix and as an adjunct Professor of Medicine at Midwestern University Arizona College of Osteopathic Medicine (AZCOM).

He has presented at numerous national and International meetings on diabetes and heart disease His professional activities also include serving on Editorial Boards of medical journals, reviewing landmark guidelines and policy statements and serving on many important advisory boards dealing with Quality initiatives of national organizations.
Previously Participated On: