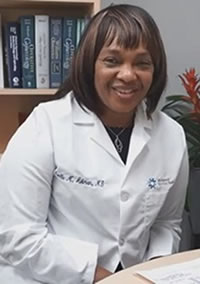 Dr. Noelle Aikman was born in Kingston, Jamaica and is a graduate of Brooklyn College in NY. She obtained her medical degree at UMDNJ-Robert Wood Johnson Medical School in Piscataway NJ. Dr. Aikman completed her Ob-Gyn Residency at Jersey Shore University Medical Center and remained in the area to build her career. She has recently been appointed Interim Chair of the Obstetrics and Gynecology Department.

Dr. Aikman has built a successful private practice and treats her patients like they are a family member. Whether completing a surgery in the operating room or delivering a baby on labor and delivery, she treats all her patients like a VIP.

Dr. Aikman has served as the Residency Program Director since 2016. She was recently interviewed and highlighted by the Greater New York Hospital Association in their series entitled Behind the White Coat. They highlighted her role as the program director and her approach to engage and educate the residents.

Dr. Aikman is an active member of the American College of Gynecology and Obstetrics (ACOG) and is board certified. Outside of work, Dr. Aikman loves to spend time in New York City, as well as warm and sunny Florida.
Previously Participated On: