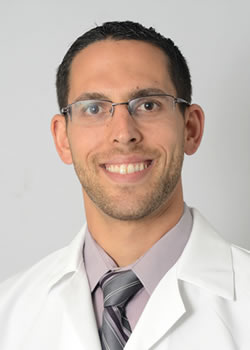 Dr. Adam Kaplan was born and raised in Keyport, New Jersey. He received his undergraduate degree from Rowan University and his medical degree from Ross University School of Medicine, graduating with high honors. He completed his Internal Medicine residency at Jersey Shore University Medical Center where he was selected as Chief Resident. Dr. Kaplan stayed true to his roots and is currently a Board certified physician practicing Internal Medicine at Jersey Shore University Medical Center; Dr. Kaplan also serves as full time faculty in the Internal Medicine Residency program.

Since graduating from residency, Dr. Kaplan has stayed active in the academic arena of medicine in both clinical and research roles. Dr. Kaplan is the attending of record for residents, on a regular basis, and takes pride in focusing on, not only, evidence based care but also on teaching physicians humility with a bedside approach. He is the lead faculty for the resident driven, quality improvement initiative and is currently overseeing 9 projects by the 1st and 2nd year residents.

Dr. Kaplan is an active member of the ACP, achieving Fellow status in 2017, and is involved at local and national meetings. Past activities included Leadership Day, where important healthcare initiatives where discussed in Washington, DC, as a judge at the NJ regional meeting, as well as an appointment to the Early Career Physician Council.

Dr. Kaplan believes that in order to excel at medicine you must enjoy it and while medicine should be a priority in your life, it should not encompass it. To encourage a more balanced life, Dr. Kaplan is an aspiring photographer and enjoys submitting his photos to the Hackensack Meridian Health Photography expo each year. He also keeps a focus on a healthy lifestyle that includes running, biking, and swimming (triathlons). The most rewarding of all is his family, he enjoys spending time with his wife and son.
Previously Participated On: