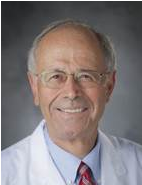 Dr. Poleski is currently Professor of Medicine at Duke University in the Department of Medicine, Division of Gastroenterology, Duke University. He was Chief of Gastroenterology at Duke Regional Hospital (DRH) and Director of the Endoscopy from 2008 to 2016.

Dr. Poleski created the modern DRH Gastroenterology Department, starting with one Gastroenterologist in 2008, and now includes 8 Gastroenterologist. He is currently a full time Professor of Medicine at Duke University with a full time practice at Duke University clinics and endoscopy centers.

Dr. Poleski graduated McGill University, Montreal, in 1973 with an MD. He did his Internal medicine training at The University of Toronto and McGill University. In academic year 1975-76 he was Chief Medical Resident at The Jewish General Hospital of McGill University. He did a fellowship in Gastroenterology at Memorial Sloan Kettering , part of the Cornell Hospitals in New York City.

After completing his fellowship he returned to the Jewish General hospital as a consultant in Gastroenterology, developed the first Inflammatory Bowel Disease center at that hospital and at McGill University. He eventually rose in the ranks to become an Assistant Professor of Medicine at McGill University.

He joined the Scripps Clinic Medical Group in La Jolla , California at the end of 1992 as a consultant in Gastroenterology. He subsequently became Director of the Inflammatory Bowel Disease Center and Director of the Fellowship program in Gastroenterology and Hepatology at Scripps clinic.

He also had an appointment at UCSD as Clinical Professor of Medicine. In the summer of 2003 he joined the faculty of Duke University as Professor of Medicine and senior consultant in Gastroenterology. He has continued his interest in inflammatory Bowel disease (IBD), involved in clinical studies and having a clinic at Duke University Medical Center dedicated to IBD.
Participating On:
Previously Participated On: