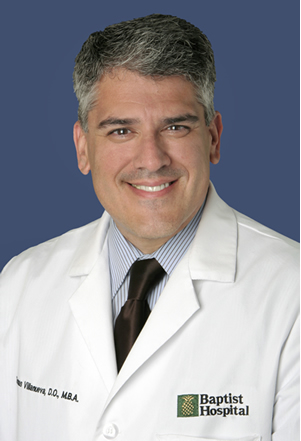 Dr. Tom Villanueva is presently the Chief of Primary Care for the Baptist Health Medical Group, part of Baptist Health South Florida. In this capacity, he is Executive Physician, responsible for Primary Care Redesign of over 11 practices encompassing 2 counties which will expand to 4 counties within the next 18 months. In this capacity, Dr. Villanueva is responsible for transforming these practices towards value based payments, risk sharing and population health. He has over 15 years of physician leadership experience, first as a hospitalist where he created over 3 different programs, the last of which consisted of 71 physicians covering 2 hospitals. He is also currently the Corporate Medical Director of Employee Health and Chief of Palliative Care for Baptist Health.

He is a member of the inaugural class of Senior Fellows for the Society of Hospital Medicine and serves in many national committees for the Society of Hospital Medicine, including the Chief Editor of the ACS Quality Improvement Guide for SHM second edition. He is a Past President of the South Florida Chapter of the Society of Hospital Medicine and has published in national journals and books. He has served as Chief of Medicine, Associate Chief of Medicine and Secretary General for the Medical Staff at Kendal Regional Medical Center and Baptist Hospital of Miami respectfully.

He received his Doctor of Osteopathic Medicine with Honors from Nova Southeastern University, where he presently holds a position as Clinical Assistant Clinical Professor of Medicine in addition to holding the same teaching position at Florida International University, College of Medicine. He completed his residency in Internal Medicine at the University of Miami, Jackson Memorial Hospital where he received the, "Eric Reiss Award for Outstanding Teaching". He is double boarded in Internal and Palliative Care Medicine.

Dr. Villanueva also has a Masters of Business Administration from the University of Miami, School of Business, in Health Administration and Policy. He is a Fellow of the American College of Physician Executive. He has a vast experience in networking among multiple physician specialties and establishing policies and programs.
Participating On: