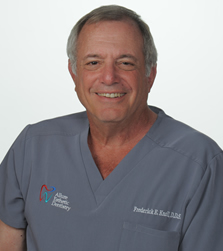 Dr. Knoll attended undergraduate school at Temple University and Hofstra University. He received his Doctorate in Dentistry at Case Western Reserve University in 1971. After two years as a dentist in the United States Army, Dr. Knoll went into practice in Brooklyn, NY with this father.

In 1976, Dr. Knoll moved to South Florida. Dr. Knoll has held academic positions as an Assistant Clinical Professor as Nova Southeastern University in the department of Prosthodontics where he taught both Pre Doctoral students and Post Doctoral Students. He was also a Full Professor at the University of Florida School of Dentistry where he taught Post Doctoral residents in Prosthodontics.

He now holds the post of Department Head of Prosthodontics at the Florida Institute of Advanced Dental Education, where he teaches Post Doctoral residents and practicing dentists in the field of Prosthodontics (crowns, bridges, implant restorations and cosmetic dentistry). He has lectured extensively on the field of Prosthodontics both locally and nationally for the last twenty years. He is a member of the American College of Prosthodontics, The American Dental Association, and a Fellow of the American College of Dentists.