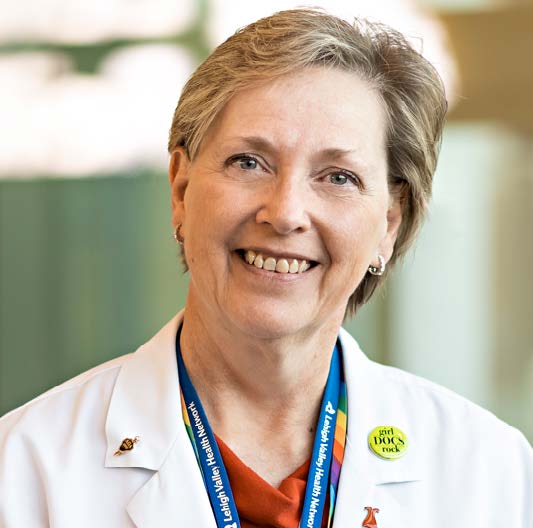 Marna Rayl Greenberg, DO, MPH, is the Vice-Chair of the Department of Emergency and Hospital Medicine, Research at Lehigh Valley Health Network and Professor, USF Morsani College of Medicine. She completed her Master's at Johns Hopkins Bloomberg School of Public Health. She has research and publication experience related to the prevention of alcohol and tobacco abuse and resolving gender differences in education and care provided in the Emergency Department.

In 2014 she co-chaired the Academic Emergency Medicine Consensus Conference that put forth the national research agenda on Gender Specific Research in Emergency Medicine. She is a fellow of the American College of Emergency Physicians and a member of the American Osteopathic Association.

She is the recipient of numerous awards and honors such as completing her certification as a physician executive (2011), receiving the LVHN Medical Staff Research Award (2019), receiving the USF Theodore/Venette Ashounes-Ashford Distinguished Scholar Award, receiving nomination and induction into the Alpha Omega Alpha Honor Society (2018), receiving the American College of Emergency Physicians recognition award for longevity in Emergency Medicine (2014), receiving the Academy of Women in Academic Emergency Medicine Momentum Award (2014), receiving the Unsung Hero award from the American Osteopathic Association (2014) , receiving the Soroptimist International Ruby Award (2010) for Women Helping Women; the FHS Distinguished Alumna Award (2006); the Pennsylvania American College of Emergency Physicians 2005 Emergency Physician of the Year Award; the Physician Service Star Award (2004) for ER Preventive Health Initiatives; and Koop Community Service Award (2000).