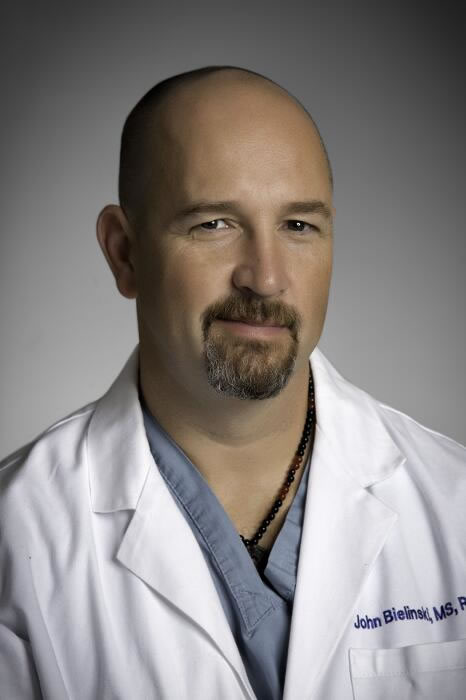 Growing up, John struggled in school and was labeled a "difficult" learner. Feeling unprepared for college,John joined the United States Marine Corps and was soon deployed to Operation Desert Storm. John's job was to quickly and accurately recognize armored vehicles to determine which were the "good guys" and which were the "bad guys." Any mistake could cost American lives. John had to learn quickly and effectively.

The military provided John with a unique learning tool – flash cards. One side of the card had a picture of the vehicle. The other listed identifying features. Reading and flipping the cards a few times, it clicked. John Bielinski learned the information. Quickly and effectively.

His military experience provided John with a foundation to build upon - and he took advantage as he made his way through college. A course at the University at Buffalo provided John with incredible insight into how people learn – called "Methods of Inquiry," the course covered different ways people learned. The course sparked a lifelong passion for learning and education.

After completing his degree, John Bielinski moved into clinical practice and threw himself into learning medicine at an extremely high level. He applied the techniques he had learned during his undergraduate studies to learn and remember medicine. Flash cards and memory tricks provided a solid foundation for retaining information that was critical to saving lives. He retained information and remembered it at critical times. He developed consistent, high-caliber, reproducible systems of assessing patients. Systems for evaluating patients with various symptoms.

John ran a rural emergency department for nine years without a physician on site. He took the opportunity and applied the techniques he had so carefully honed firsthand. John Bielinski got results. He took that success a step further and began teaching Advanced Cardiac Life Support and later an advanced course. Feeding his passion for learning, John developed a new passion for teaching. Through teaching, his learning deepened as well. He taught for ten years at two physician assistant schools in Buffalo, New York,and taped some of his lessons. Those lesson videotapes eventually turned into CME4LIFE.

John Bielinski, Jr. conceptualized CME4LIFE after being frustrated by CME and conferences that focused on learning tools that were…well…boring. Who learns effectively through busy PowerPoint slides or yawn-inducing charts and pie graphs? There had to be a better way.

John feels strongly that God has given him the gift of teaching to share with passionate, intelligent medical providers across the US. His humility in teaching allows him to pursue his passion and provide critical information to those who need it. He coined his unique learning system "Active Engagement Learning"- song and dance, various mnemonics, audience participation and critical thinking lead to CME that is unlike any other product available.
Participating On: