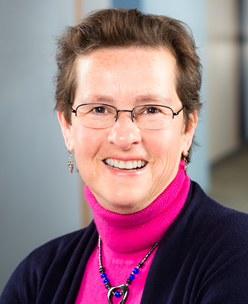 Alice D. Domar, PhD is a pioneer in the application of mind/body medicine to women's health issues. She not only established the first Mind/Body Center for Women's Health, but also conducts ongoing ground-breaking research in the field. Her research focuses on the relationship between stress and different women's health conditions, and creating innovative programs to help women decrease physical and psychological symptoms.

Dr. Domar received her M.A. and Ph.D. in Health Psychology from Albert Einstein College of Medicine/Ferkauf School of Professional Psychology of Yeshiva University. Her post-doctoral training was at Beth Israel Hospital, Deaconess Hospital, and Children's Hospital, all in Boston.

She has conducted research on infertility, breast cancer, menopausal symptoms, ovarian cancer, pregnancy, and premenstrual syndrome. Dr. Domar has earned an international reputation as one of the country's top women's health experts.

She is currently the Executive Director of the Domar Centers for Mind/Body Health, and the Director of Mind/Body Services at Boston IVF. She is an associate professor of Obstetrics, Gynecology, and Reproductive Biology, part-time, at Harvard Medical School, and a senior staff psychologist at Beth Israel Deaconess Medical Center.

Dr. Domar has compiled an impressive list of accomplishments as a best-selling author, media authority and sought-after public speaker. She is the author of numerous books, including the national best seller "Self-Nurture", and is on the advisory board for Parents Magazine. She was on the Board of Experts for ShareCare.com and was a columnist for Redbook and Health magazines. She was also a featured expert for LLuminari and on the online social health network BeWell.com. She served on the board of Resolve for ten years.

Three of her books have been finalists for the Books for a Better Life Award. She was also the Series Editor for a series of mind/body books by Harvard Medical Publications/Simon and Schuster. She is the narrator of the DVD's "Stress and Relaxation Explained" and "Infertility Explained", both of which won silver Telly Awards. Dr. Domar has appeared on the Today Show, Good Morning America, CBS This Morning, Dateline NBC, CNN, PBS, and the CBS and NBC Evening News, to name a few. She presents lectures and conducts workshops throughout the US and around the world and went on tour with Oprah in the spring of 2004 and 2005 with the LLuminari team. Dr. Domar was named to the prestigious list of 15 "Women to Watch in 2004" by Lifetime TV. Her seventh book, "Finding Calm for the Expectant Mom" came out in 2016.