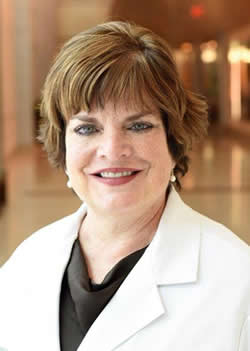 Dr. Calderon's love of medicine started long before she entered medical school. As an undergrad she completed a BS in nursing then started her career as a critical care nurse. Once graduating New York College of Osteopathic Medicine her post graduate training brought her to Albert Einstein Medical Center in Philadelphia, University of Maryland Medical System in Baltimore, and finally to the prestigious Cleveland Clinic for a specialized fellowship in Adult Congenital Cardiology.

As one of fewer than 300 doctors in the country with this advanced training she has served the adult congenital heart population of New Jersey for more than 20 years.

She joined the staff of Jersey Shore University Medical Center in 2011. In 2012 she was appointed Chief of Cardiology. Dr. Calderon is an accomplished clinician, teacher, researcher, patient advocate, and community lecturer. She is a founding member of the Medical Advisory Board of the Adult Congenital Heart Association and the International Society of Adults with Congenital Heart Disease.

She has also been recognized with awards for teaching, leadership, and community service most recently being the AHA NJ Heartsavers award and The NJ Hospital Associations Community Outreach award for spearheading the"Community of Lifesavers" initiative which has taught more than 10,000 graduating high school students CPR and the use of a defibrillator, and has gotten state legislation passed making this training a requirement. She is a career long champion for women's health and an active member of the American Heart Association's "Go Red" speakers bureau.

This fall Jersey Shore welcomed its first Jane Booker Cardiology Fellows. The program was designed by and now directed by Dr. Calderon, in keeping with the goal of teaching tomorrow's doctors.
Previously Participated On: