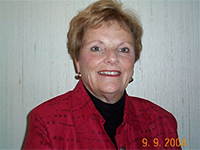 Sandra Reifsteck is a seasoned ambulatory healthcare professional with over 40 years of experience working with physicians, nurses, and other healthcare providers. She held many administrative roles in a large group practice for 28 years where she initiated advance practice professionals (APP's), a 500 nurse Parish nurse training, and a Compassionate Care Retired Nurse program.

Following this career, she joined the Institute for Healthcare Communication serving as Director of Office of Development and Quality Improvement whose missions is to improve health care through communication skills between clinicians and patients. She continues as a Master trainer with experience in conducting Train the Trainers across the US and Canada in addition serving as faculty for University at Sea.

Sandy also is a founding member of the American Academy of Ambulatory Nursing who will be celebrating their 40-year anniversary in April 2020. She has had a long career with the national Medical Group Management Association (MGMA) serving as President for Illinois, the Midwest Section of 10 states, and Chair of the National MGMA in Denver CO.

She attained her fellowship in the American College of Medical Group Medical Practice Executives (FACMPE). She has been active in MGMA serving as both Illinois and Midwest Section Presidents in addition to Chairman of the National MGMA Board. She is a Fellow in the American College of Medical Practice Executives. Her healthcare and life experience have allowed her to follow her passion of "people" communicating with each other and the importance it has in today's health care environment.