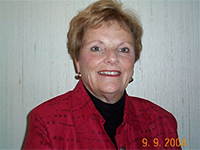 Sandra Reifsteck spent over 25 years as an administrator and Vice President of Nursing and Professional Services with Carle Clinic, a 350 physician medical group practice with over 100 mid-level providers located in Urbana, Illinois.

During her career she served as Past Chairman of the Board of the Medical Group Management Association (MGMA) and is a Fellow in the American College of Medical Practice (ACMPE). Sandy was a founding member of the Board, and President of the 40 year old American Academy of Ambulatory Care Nursing (AAACN).

She has received numerous honors including the national Harry A. Hartwick Outstanding Administrator award and the University of Illinois College of Nursing Sage award. She continues as a master trainer and faculty emeritus for the Institute for Healthcare Communication (IHC) and has published in several healthcare journals. Ms. Reifsteck speaks at professional organizations, hospitals and medical groups across the country.

Her experience in working with healthcare teams and the importance of patient collaboration are assets she brings to the healthcare field.