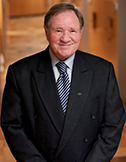 Dr. Rogers is a Professor of Dermatology, Mayo Clinic College of Medicine. He practiced dermatology and oral dermatology at Mayo Clinic Rochester 1973-2010 and serves as a Consultant in Dermatology at Mayo Clinic in Arizona. Dr. Rogers served as student and then academic dean of the Mayo Medical School (1982-1989). He then became Dean, Mayo School of Health-Related Sciences for ten years. He was been recognized as a Distinguished Educator by Mayo Clinic Rochester in 2004.

Dr. Rogers has had a long-standing interest in oral dermatology, oral pathology and oral medicine. He has been recognized as an authority in that area having edited three volumes of the Dermatology Clinics with a fourth volume in preparation and co-authored three books as well as more than 230 scholarly publications. He has received two Presidential Citations and the Gold Triangle Award from the American Academy of Dermatology (AAD) as well as the Thomas G. Pearson Memorial Education Achievement Award. In July, 2005, he gave the Everett C. Fox, M.D. Memorial Lecture at the summer meeting of the AAD.

Dr. Rogers was made an Honorary Member of the AAD in 2007. In 2010 he was accorded Honorary Membership in the British Society of Oral Medicine and was recognized as a Lifetime Career Educator by the Dermatology Foundation. In 2012, Dr. Rogers was made an Honorary Member of the European Academy of Dermatology and Venereology. In 2015, the 18,000 member AAD recognized him with the Master Dermatologist Award, an award given to one dermatologist a year.

Dr. Rogers has presented numerous named lectureships and served as Visiting Professor at many academic institutions in the United States, Canada, and around the world. In 1999, Dr. Rogers gave the first Ahmed Lecture at the Harvard School of Dental Medicine. In 2000, Dr. Rogers was the keynote speaker at the first joint meeting of the British Society of Oral Medicine and the British Society of Oral Pathology. In addition, he gave the keynote address at the International Association of Oral Pathology later that year.

Dr. Rogers has been recognized by the International League of Dermatological Societies for his dedication to international dermatological education with the recognition of having taught in 55 countries over the years.

Dr. Rogers completed his medical education at the Ohio State University College of Medicine and his internship at the Strong Memorial Hospital of the University of Rochester. He was a postdoctoral research fellow and resident in Dermatology at Duke University Medical Center. He then completed his training with an NIH fellowship and residency at Mayo Clinic where he earned his MS in Dermatology from the Mayo Graduate School of Medicine before joining the Staff of the Mayo Clinic in 1973. Dr. Rogers is certified in Dermatology, Dermatopathology and Dermatologic Immunopathology.
Participating On: