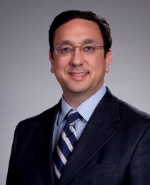 Dr. Andrew Michaels received his undergraduate degree in History & Science from Harvard University. He then completed his medical degree, internship, residency, general cardiology fellowship, and interventional cardiology fellowship at the University of California-San Francisco (UCSF).

He stayed at UCSF for 6 years as an Assistant Professor of Medicine and Co-Director of the Cardiac Cath Lab. He was then recruited to the University of Utah as a tenured Associate Professor of Medicine and Director of the Cardiac Cath Lab. He then transitioned to a community-based interventional cardiology practice at St. Joseph Hospital in Eureka, CA for 8 years. Since 2018, he has worked in Boise and Nampa, Idaho for the Saint Alphonsus Medical Group.

He is the Co-Director of the Cardiac Cath Lab and Medical Director of Cardiology in Nampa. He has over 100 publications, and has had clinical research grants from the American Heart Association, American College of Cardiology, and the National Institutes of Health.
Participating On: