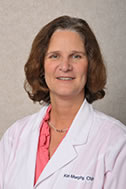 Kim Murphy has over 36 years of nursing experience including 32 years in labor and delivery and 16 years as a women's health nurse practitioner.

She currently fills the role of staff nurse and charge nurse at The Ohio State University, a large Level 3 academic medical center along with being a women's health NP in private practice. She also is the lead provider in public health for prenatal care and sexual health services in a Title X agency.

She has been a leader in education while making multiple speaking presentations on a variety of topics related to obstetrics and women's health. She recently spoke at the national AWHONN conference in 2019. She is a designated instructor for fetal monitoring through AWHONN. She also participates in legal review of malpractice cases.