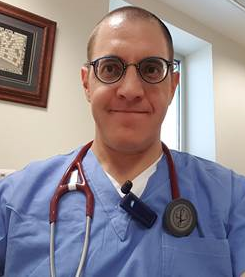 Dr. Marc Romain received his MBBCH degree from the University of Witwatersrand Medical school, South Africa. He specialized in internal medicine in South Africa and then moved to Israel where he completed his fellowship training in both General Intensive Care and Nephrology at the Hadassah Hebrew University Hospital, Ein Kerem, Jerusalem.

He currently works as a senior physician in the Medical Intensive Care unit at Hadassah University Hospital and is responsible for developing the field of Critical care nephrology within the Hospital. This involves both training of nurses and physicians as well as outreach to the various intensive care units. He has a passion for teaching and is involved in medical student, nursing and physician education. In 2018 and 2019 he received an award for being one of the outstanding teachers at the Hebrew University Medical School. He also runs a point of care ultrasound course (POCUS) and an introductory course to continuous renal replacement therapy (CRRT) for the staff at the hospital.

He also works in the inpatient dialysis units and has a general nephrology outpatient clinic.
In his free time, he enjoys spending time with his family, volunteering for the prehospital emergency services and running marathons.

Participating On:
Previously Participated On: