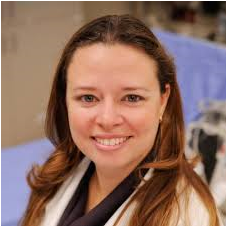 Caroline is a native Floridian, who was born in Miami, Florida. She attended Florida International University, where earned a Bachelor of Science degree in Biology. She went to Puerto Rico for medical school, specifically Universidad Central del Caribe School of Medicine and graduated in June of 2007.

As for her residency, she stayed in Puerto Rico and attended University of Puerto Rico Emergency Medicine Residency, in Carolina, Puerto Rico. Upon graduation in 2010, she moved to Orlando Florida, where she joined a group that serves AdventHealth East Orlando. Shortly after beginning at AdventHealth, she became the Curriculum Director at the AdventHealth Emergency Medicine Residency.

Recently in May 2019, she completed her master's in medical education from Lake Erie College of Medicine. She is an enthusiastic tennis fan, as a local player and enjoys being a spectator at the Miami Open and US Open Championships.
Participating On: