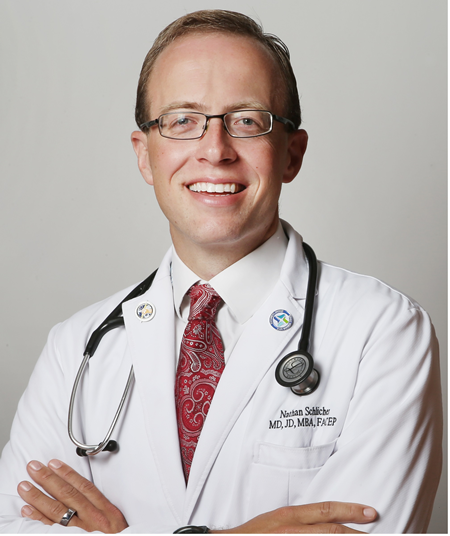 Nathan Schlicher currently works at St Joseph's Medical Center, and lives in Gig Harbor with his wife Dr. Jessica Schlicher, and their three children (David, Juliette, and Henry). He serves as the Regional Director of Quality Assurance for the emergency departments of the Franciscan Health System and the Associate Director of the TeamHealth Litigation Support Department. He attended Law School and then Medical School at the University of Washington before completing an EM residency at Wright State in Dayton Ohio with board certification in Emergency Medicine. He recently completed his Masters in Business Administration with an emphasis in Health Care.

As Legislative Affairs Chairman of the Washington State Chapter of Emergency Physicians, Nathan spearheaded the "ER for Emergencies" program to replace the State's plan to deny ER services to Medicaid Patients. Nathan's leadership in this effort will lead the state to save $31 million per year by making better health care. He created and has edited four editions of a textbook on the importance of advocacy by physicians, "The Emergency Medicine Advocacy Handbook." He currently serves as the 1st Vice President of the Washington State Medical Association and is a Past President of the Washington Chapter of the American College of Emergency Physicians. He has previously served as the Legislative Advisor on the Board of Directors of the Emergency Medicine Residents' Association. He also spent a year in the Washington State Senate, representing the 26th District, where he continued his work on health care advocacy. He continues to work with interested parties on health policy topics including renewed focus on the opiate and mental health crises affecting the state.

Nathan and his wife are deeply involved in the community. They serve as foster parents and run a Free Clinic on the peninsula. Nathan is serving as the Capital Campaign Chair for the Olympic College's next campaign and is an active Rotarian. Currently serving as the 1st Vice President of the WSMA, he is currently leading the statewide Opiate Prescribing Feedback Report system that in its first year has seen compliance with acute prescribing guidelines improve by almost 70%. In his spare time, his wife and he are amateur triathletes, love skiing, coaching their kid's soccer teams, and relaxing in the mountains.

He has been recognized for his leadership multiple times including the South Sound Business Journal's 40 under 40 Award, Washington State Chapter of the American College of Emergency Physicians Guardian of Emergency Medicine Award, Pacific Lutheran University Outstanding Recent Alumni Award, the American Medical Associations Leadership in Excellence Award, the American College of Emergency Physicians' Collin C. Rorrie Jr Award for Excellence in Health Policy, and the WSMA's William O. Robertson Patient Safety Award.
Participating On: