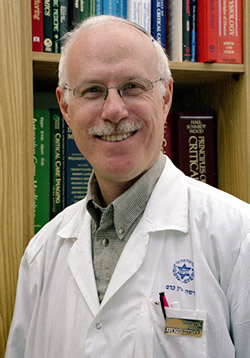 Professor Charles Sprung is the Director Emeritus of the General Intensive Care Unit in the Department of Anesthesiology and Critical Care Medicine at Hadassah Hebrew University Medical Center in Jerusalem, Israel where he has worked for the last 33 years. He was previously the Director of the Section of Critical Care Medicine in the Department of Medicine at the VA Medical Center and the University of Miami for 13 years. He graduated the University of Miami School of Law in 1988. Professor Sprung was the Chairman of the Committee on Ethics Section of the US Society of Critical Care Medicine and of the European Society of Intensive Care Medicine (ESICM) for many years.

Professor Sprung has been active in research particularly studying sepsis, septic shock and ethical issues for more than 35 years. He was a member of the ACCP/SCCM consensus conference on definitions of sepsis in 1991 and a member of the Surviving Sepsis Campaign guidelines from 2002 to the most recent guidelines in 2021.

He has participated in many sepsis studies including those of encephalopathy and treatments with corticosteroids, monoclonal antibodies to endotoxin and tumor necrosis factor, interleukin-1 receptor antagonist, antithrombin III, tissue factor pathway inhibitor, human activated protein C and recombinant platelet-activating factor. He has also served as a member of Clinical Evaluation and Data Safety and Monitoring Committees for many phase III, multicenter sepsis trials. Professor Sprung coordinated the prospective, multicenter European trial of corticosteroids in septic shock, Corticus. He was the Coordinator of several multi-center studies in ethics including End of Life Decision Making and Procedures in European Intensive Care Units - ETHICUS, Systematic Study of General Ethical Principles Involved in End of Life Decisions for Patients in European Intensive Care Units - ETHICATT, Triage Decision Making for the Elderly in European Intensive Care units - ELDICUS and Worldwide Consensus for End of Life Decisions - Welpicus.

The Hadassah General ICU has treated more terror victims than any other ICU in the world. In addition, Professor Sprung served as the Chairman of the European Society of Intensive Care Medicine Ethics Section Task Force for ICU Triage for Disasters and Pandemic Influenza which produced recommendations for the 2009 H1N1 influenza pandemic and he was a member of the recent American College of Chest Physicians Task Force for Mass Critical Care during a Disaster which also published recommendations. More recently, he was the first author of a paper written by an international group of triage experts on a new algorithm for triaging patients to the ICU during the Coronavirus Disease 2019 Pandemic and the Chairman of the Medical Subcommittee that developed the National policy of the State of Israeli for Triage Decisions for Severely Ill Patients During the COVID-19 Pandemic.

Professor Sprung has been or continues to be a member of several international committees of medical organizations, world health organizations and governmental agencies. He has published extensively on all of the above and multiple ICU areas with more than 350 original articles and 50 book chapters. He received the 2011 ESICM Medal for outstanding contributions to both ESICM and to the development of Intensive Care Medicine worldwide and the Roger C. Bone Advances in End-of-Life Care Award from the CHEST Foundation of the American College of Chest Physicians in October 2013. He was the 2015 Bonei Zion Prize Recipient for Science & Medicine- an award recognizing outstanding Anglo Olim who encapsulate the spirit of modern-day Zionism by contributing in a significant way towards the State of Israel.